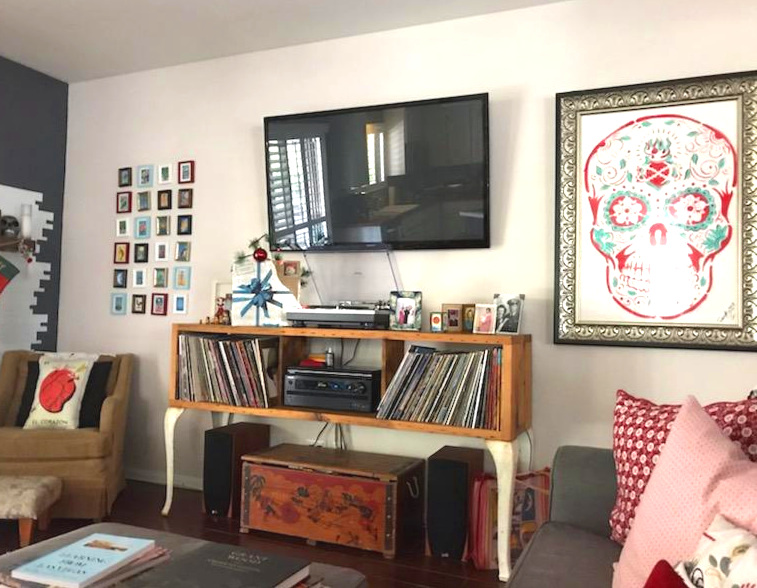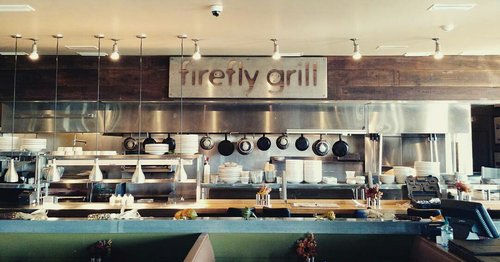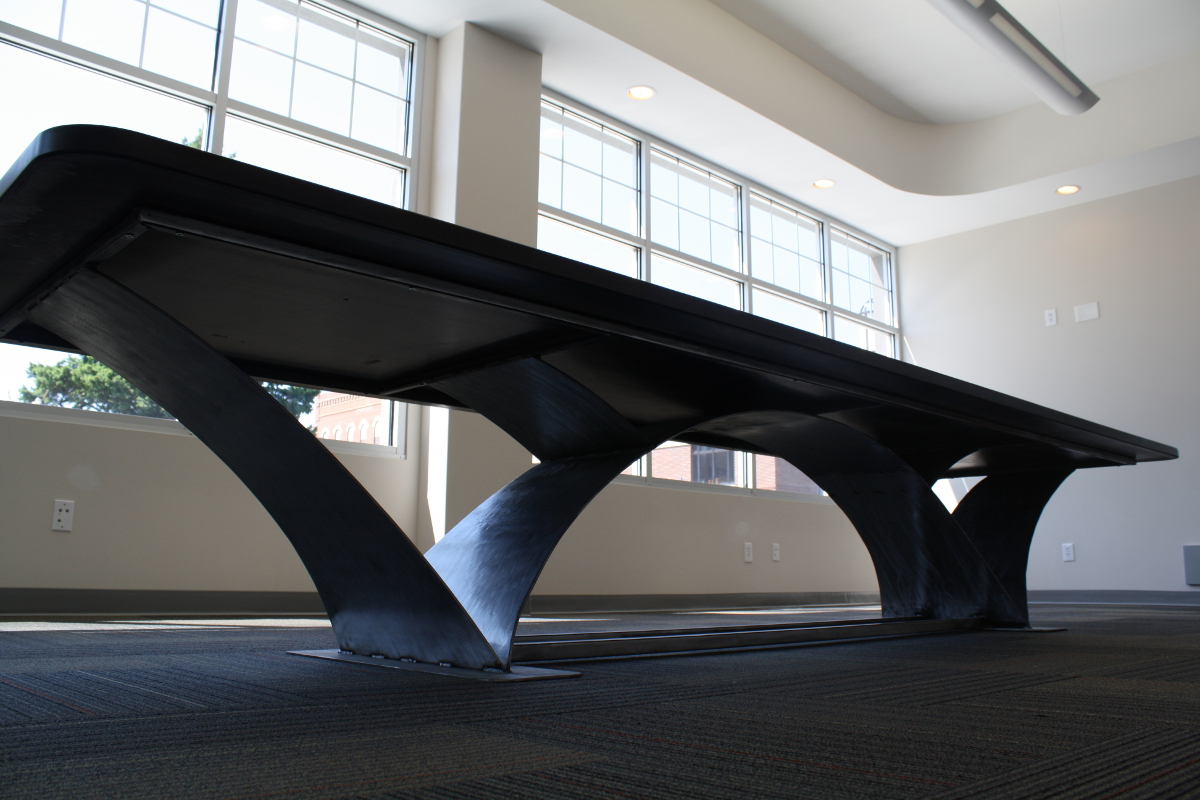 Holdfast Dining Table and Bench
I custom-built this beast for a client on North Lake Shore Drive in Chicago. I met her at one of my pop-ups at West Elm, where she saw one of my Holdfast coffee tables. She asked if I could make a dining table using the same exaggerated box-joint style joinery that defines my Holdfast series. Conveniently, I had actually been daydreaming a bit about building such a thing. The result is this 3' x 6'4" beauty. It is built from 2" thick oak lumber, reclaimed from the structure of a circa 1900 railroad warehouse in Central Illinois. The bench is constructed from the same material at 5' 11" long to allow for maximum seating and full slide-in-ability. Up a few floors, a seat at this table allows for a nice view out the city. Both of these pieces, however, are eventually bound for the client's new home in San Antonio, TX.
Holdfast Benches
These custom designed benches are made of a blend of reclaimed old-growth pine and box elder. They utilize my "Holdfast" joinery design, which is an exaggerated take on a traditional box joint. These were built to accompany a custom patinated steel and reclaimed beam table that I also built for this Champaign, IL client, but they migrated to the living room where they perform multiple functions, including sofa console and overflow seating.
Round Walnut Coffee Table
I custom-designed this piece for a client's beautifully updated mid-century home in Champaign, IL. The spun aluminum base was saved from the landfill during the clean-out of the now-defunct General Electric Light Bulb Factory in Mattoon, IL. Orignally topped with a circle of wood-print particle board, the base had clearly lived an interesting life. It took day's worth of scrubbing and polishing to get rid of the film of yellow tobacco stain and heavy black boot scuffs and return the aluminum to its soft luster. I glued-up and cut the circular top from 1.25" thick "rustic grade" black walnut. It sports a midmod-appropriate thumbnail edge. The rustic grade material is not sorted for wild grain patterns, knots, or sap wood, so the end result is a high-character top that contrasts well with the piece's refined lines. I wish I could have found a room full of those bases!
Workbench Desk
Fewer situations are happier than meeting a client who loves my work, says "I need a desk," and provides me with dimensions and an approximate budget. This desk, as you may have guessed, is the result of that very situation. The maple butcher block top/leg lived a previous life as a workbench top at the now-defunct General Electric Light Bulb Plant in Mattoon, IL. The steel, desk-height workbench leg also came from the GE plant. The Maple brace board and adjustable shelf (included, primarily, as a napping spot for cats) were built with material salvaged from a freight elevator in an early 20th century commercial building in downtown Sullivan, IL. The finished product now resides in a home office in a classic Chicago 2-flat.
Live Edge MidMod End Table
I built this original piece using highly-figured Ambrosia Maple. Ambrosia Maple is distinguished by pinholes and streaks of color caused by an infestation of larval Ambrosia Beetles while the tree is still alive. The result is a very funky and unusual wood. In this piece, the live edge top is mitered at the top right corner of the box so that all of the grain and color streaks "flow" down the right side of box. The legs are mid-century vintage. It is pictured, here, at its home in Champaign, IL.
Walnut and Steel Feature Wall
I designed this feature wall for clients in Aurora, IL. It includes solid Black Walnut, custom-milled, tongue-and-groove wall cladding as well as hand-fabricated, patinated steel box shelves. The lower row of steel boxes is topped with a walnut shelf, creating a built-in console.
Waterfall Coffee Table
This is an original design I created using book-matched black walnut and patinated steel. When my clients in Aurora, IL said they were looking for a large coffee table for the same room as their feature wall, I showed them this piece, and they adopted it right away. Plenty of room to spread out the Sunday paper and soak up a little sun from the picture window.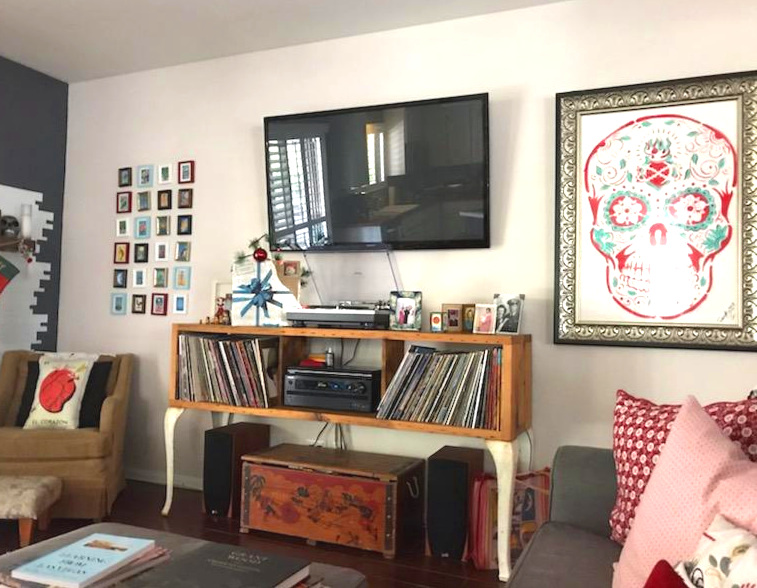 Record Storage/Stereo Console
I designed and built record storage/stereo console as an exercise is creating a four-sided pieces using the exaggerated box joint detail of my "Holdfast" series. The box is made from reclaimed lumber, salvaged from a farm building near Maroa, IL, and the Queen Anne-style legs are vintage, enamel-coated, cast iron stove legs. I built this piece at my shop in Central Illinois for a show in Madison, Wisconsin, but before that I even had the finish applied, it was purchased by my friend and repeat client (there's just a peek of floating steel mantel on the left side of this photo) in Las Vegas, NV. It still went to Madison in a display-only capacity. So, this one has done a little traveling.
Modern Dining Table
I designed and built this dining table for Matt Talbot as a Mother's Day gift for his wife. (Those of you of a certain age may remember Matt as the frontman of the band Hum, who enjoyed some renown starting in the 90s.) Matt provided the reclaimed pine that we used to create the top, which features a lot of natural character and a mid/mod-inspired thumbnail edge. I salvaged the vintage chrome legs from a commercial display table. This piece resides in Champaign, IL.
Holdfast Entry Console
This white oak and patinated steel entry console is an original design that I had available when this client in Champaign, IL reached out, looking for a piece that would serve as a "drop zone" by the front door and would fit well under and complement these original paintings. This piece is assembled using my "Holdfast" joinery method, an exaggerated take on the traditional box joint. It also features a steel lower shelf with my custom patina. A tiny bit of live edge on the lower portion of the left leg adds just a touch of funky, organic character.
Patinated Steel Countertop
I designed and created this countertop to top off my friend Ryan Groff's kitchen remodel. (If you aren't familiar with Ryan's band "Elsinore," I strongly encourage you to look into them.) Ryan and his wife Jody were centering their remodel around a custom cherry butcher block countertop that they already had. Knowing that they wouldn't be able to match the already-aged cherry, they came to me looking for a durable, unique material for the new bank of cabinets that would complement their existing countertop and their funky design palette. Nailed it.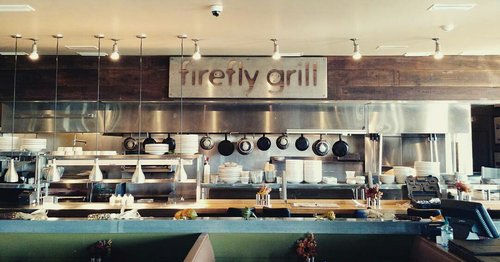 Restaurant Interior Overhaul
The folks at the Firefly Grill in Effingham, IL brought me in to take a look at a couple of updates they wanted to do in celebration of their 10 year anniversary. Suffice it to say that we worked well together, got on a bit of a roll, and I ended spending about a year working on projects that essentially amounted to a complete interior redesign. Reclaimed wood wainscoting with steel baseboard and chair rail. Reclaimed wood coat closet with locking barn doors. Custom storage cabinets in a few locations. Custom extension table for the private dining room. Complete overhaul of the bar, including a custom steel back panel, reclaimed beam liquor shelf, custom steel wine racks. This photo shows the facade over front line grill area featuring reclaimed heart pine cladding and LED-lit steel sign. I could create an website just based on this project, but if you really want to see more of it, your best bet is to stop by and see it in person. The food is pretty great, too.
Patinated Steel Study Table
This custom-designed table is the centerpiece of a clever, functional remodel overseen by my friend Kelly at Sunshine Design in Champaign, IL, converting an underused office into a more collaboration-friendly library/study space. Seating for the table is provided by an L-shaped banquette and two rolling storage benches that tuck conveniently into the library's built-in shelving. (I also designed and built the rolling benches and built-in shelving.) This table consists of a steel top with my custom patina and a vintage mid-century commercial pedestal, sporting its original "metallic red potato" hammertone paint, salvaged from a Central Illinois restaurant.
"Axis Mundi" Dining Table
One of my Champaign, IL clients purchased a home outside of Mahomet, IL. She needed a custom table to fit the impressive proportions of what is, as near as I can tell, one of the world's largest breakfast nooks. We started with the basic design of my Axis Mundi table, my take on the traditional "4 legs and an apron" farmhouse table featuring steel legs finished with my custom patina. We settled on an impressive 5'x7' dimension for the 1.75" thick, reclaimed oak top. The long-term plan is to build-in a storage bench along the back wall, though, so it was important to leave plenty of leg room for scootage. We inset the legs to allow for the bench seating. An added benefit is that chairs can be pulled up to every bit of this table without anyone suffering from knocked knees. I couldn't resist having my photo snapped while seated at this beast.
Floating Shelves/Steel Wall Cladding
This is another design that I created for my friend Kelly at Champaign, IL's Sunshine Design. This beautifully updated mid-century home had a quirky dead-end space in a hallway that connected the half-bath and an activity room to the rest of the house. It order to add both funk and function, I clad the wall around the pocket door to the bathroom with patinated steel. This adds enough strength to the lightweight framing necessitated by the pocket door to help support these "floating" 2" thick maple shelves.
Retail Display Shelves
I custom designed and built these display shelves for the incredible Macha Tea Company in Madison, WI. Wonderful place. I strongly recommend it. Even if you know nothing about tea, have a chat with Anthony, and he'll figure out what you need. (And if you go in on a day that Rachel is cooking, definitely get food.) These box shelves are built from old-growth, long-leaf and heart pine shelf boards that I found in a storage area of a commercial building in downtown Sullivan, IL that was being remodeled. I purposefully offset the vertical supports in each box, just to create some visual interest, but I find it interesting that they ended up resembling sliders on a mixing console. (Interesting because Anthony is also a DJ. An old-school, mixing it up on two turntables kind of DJ. Happy accidents!)
Shelving Unit
This is an original piece that I created using salvaged components. The angle iron steel frame came from the factory floor of the now-defunct General Electric Light Bulb Plant in Mattoon, IL. It was clearly fabricated in-house for a specific needs and carries the rugged look of a legitimately industrial piece. The old-growth, mixed hardwood slats were reclaimed from the structure of a small machine shed on the grounds of a farmstead outside of Greenup, IL. ( The farm is now being rejuvenated and reborn under the name Hazel Anne Farm, specializing in chemical free, sustainably-grown mushrooms, herbs, and other produce. Check them out on Facebook.) I brought this piece to a Champaign, IL client's home to audition it for an application in another room. It didn't work well in that space, but my client said, "Wait. I have another space where I think it will be perfect." Sure enough.
Axis Mundi Table with "Holdfast" Benches
Custom-designed for a client who wanted the largest table possible for a fairly small dining room, this Axis Mundi features a 1.75" thick, 42"x72" reclaimed oak top. The Holdfast benches, made from the same reclaimed oak, are sized to just fit between the legs of the table, leaving just enough room, when they are slid all the way in, for a chair at either end for when the owners are dining alone. When the family is over, the benches should facilitate seating for 6 more!
Walnut Kitchen Accents
A home stylist in Chicago brought me in on this project home in Northbrook, IL. Part of their challenge was to update the very, very 80s kitchen on a fairly meager budget. The contractor-grade tile had to stay, as did the white particle board cabinets. The stylist replaced hardware and light fixtures and added some modern furniture, backsplash tile, and a subtle blue accent wall (not pictured). I was brought in to consult on how else to add some weight and warmth to the room, and I came up with the Black Walnut accents: The two shelves and drawer front that you can just see on the left and the waterfall island top. Walnut certainly isn't a "budget" material, but it's so striking that a little bit can make a big impact, especially when it is the only woodgrain in an otherwise white/cool room.
Box End Table/Stereo Console
I built the box portion of this original design using old-growth Cypress that spent the previous century or so as the rafters of a barn outside of Evansville, IN. The top and sides of the box are built from a continuous panel, so the grain "flows" down the sides of the box. I rescued that mysterious, green-painted industrial salvage steel base out of a pile of metal in a scrap yard. This stands as one of my favorite pieces. It pretty much captures the balance of rugged materials and clean, modern lines that strive for in all my work. It is currently at home at a lake house outside of Stoughton, WI, where it holds my client's high-end stereo gear. (I designed and built him a coordinating wall-mounted shelf for his turntable.)
Single-Drawer Entry Console
I designed this Lumbering Behemoth original around the vintage steel tool base, which I found in a junk shop under an old and non-functional wood shaper. The drawer box and front are built of old-growth cypress, reclaimed from the rafters of a wind-downed barn outside of Evansville, Indiana. The top and sides of the box are cut from a continuous panel, so the grain "flows" from top, down the sides. This is another piece that I managed to capture my ideal balance of industrial/rugged and clean/modern. Sadly, this piece was on display at Vault Interiors in Madison when a fire broke out in the building and was lost to smoke and water damage.
Steel-Topped Dining Table
I custom designed and built this 4' x 10' dining/meeting/work table for some really amazing folks in Champaign, IL. The top sports my custom patinated finish, and the legs are built from a reclaimed 6x6 Fir post that I salvaged from the facade of an early 20th Century commercial building in downtown Sullivan, IL. Seating up to 12 comfortably, this table was intended to serve as overflow dining space for large get-togethers, a place for the family business to hold meetings, and also a workspace for family projects.
Vintage Schwinn Billiard Table Light
A few years back, a friend in Las Vegas contacted me about designing a unique hanging fixture for her to hang over her newly acquired vintage white Brunswick billiard table. This one had me stumped until, once day, I was looking at my vintage Schwinn Hollywood (I collect oddball stuff), and a lightbulb clicked on, so to speak. I built a box from salvaged carsiding, wired it with LEDs, installed mounting hardware, and devised a way to securely attach the bicycle to the box without damaging the bike, just in case someone, someday wants to restore it. (The Hollywood has a two-speed transaxle, shifted by a "kickback" mechanism, operated by essentially tapping the coaster brake. Not particularly practical, but cool.)
"Holdfast" Coffee Table
This was the original prototype of my "Holdfast" line of furniture, distinguished by the exaggerated "box joint" joinery. Built from reclaimed, old-growth Douglas Fir timbers, this large coffee table also features a steel lower shelf with my custom patina. This piece sold to its new owners at my first West Elm Local pop-up in Chicago. It now lives in an apartment in a converted industrial building on Michigan Avenue, alongside a couple of complementary side tables that I custom-built for the space.
Walnut and Steel Coffee Table
I don't do a lot of live edge work, but I couldn't resist the little, bias-cut, live-edge black walnut slabs when I found them at an area hobby mill a few years ago. I didn't know what I was going to do with them, but they were too unusual to pass up. The smallest became a serving tray that I built and presented as a gift to one of regular clients as a house-warming gift. The largest became a super funky waterfall-leg coffee table. This one, the middle child, was destined to become this simple, graceful coffee table, featuring slightly splayed legs of patinated steel. It sold at a pop-up shop during Madison's Summer Art Fair a couple years ago. I always ask that buyers send me photos of the pieces in their new homes, but I recognize that can't be a priority for folks. I never got word of where this one landed.
Wide-belt Pulley Dining Table
I designed and built this counter-height dining table for some clients who reached out to me with a great request. One of them had been involved in the demolition of a grain elevator a few decades before. He salvaged three of the old, wooden pulleys that he found inside and stored them in one of the outbuildings of his farm for over 30 years. After completing a room addition on their home, they decided that it was time to put the pulleys to use. They wanted to know how I could incorporate this massive pulley into a table for the new eat-in area of their kitchen. This is where we landed. We ended up building a smaller version of the same table with one of the smaller pulleys to function as an end table in the adjoining family room.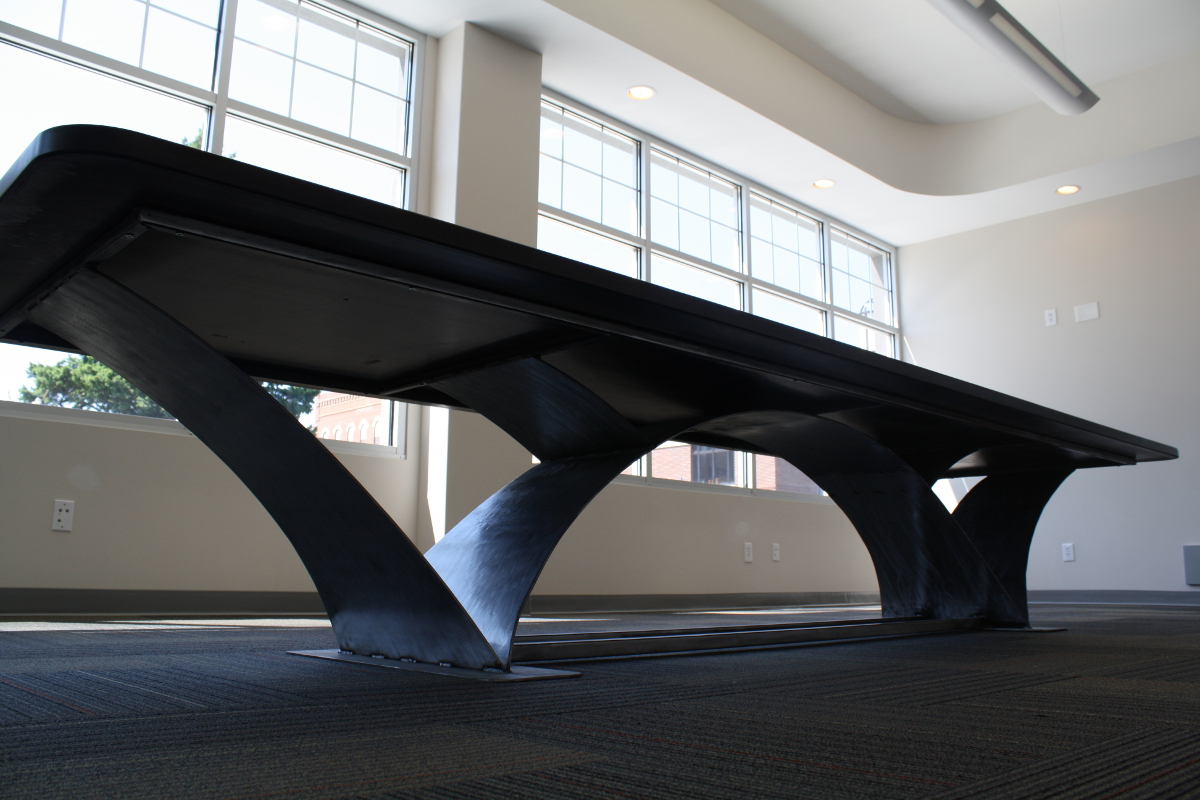 The Metropolitan Conference Table
This 4' x 14', black walnut and steel conference table was my first major custom table design project. The sculptural base is made primarily of 1/4" thick steel, and the top was custom-built by Boos, Inc. in Effingham, IL. (This was done before I started gluing up my own tops.) It's a pretty unique design, and I've been hoping for years to have a good excuse to build another. (Hint, hint.) This one is in the home office of Metro Communications in Sullivan, IL.
Floating Steel Mantel
I dreamed up the idea for this floating steel mantel for a client's home in Las Vegas, NV. She wanted something bold for her fireplace that would complement her modern decor but that would also provide some contrast and act as a conversation piece. I had the pleasure of collaborating with my friend, Charleston, IL blacksmith Lorelei Sims, on the details of this design. The mantel is essentially a two-piece box. The back/bottom piece of the box attaches to the wall, and the top/front/sides piece attaches to that piece. It's a striking and unique look. I've sold two others; one landed in Massachusetts and the other in Charleston, IL. These can be fabricated to custom dimensions, and the screws can either be visible, as in this example, or tucked under the front edge of the box for a cleaner look.
Beam Coffee Table
Blending rugged and modern elements is a challenging proposition. I spent a lot of time trying and failing to get the balance right. This was the first piece that I built that I felt really hit dead-center. The top was a 9' long, old-growth (probably) cypress beam that was salvaged from a wind-felled barn outside of Evansville, IN. The base is a modified vintage, chrome, diner table base that I dug out of a storage building behind a junk shop in Paris, IL. My friend Kelly at Sunshine Design in Champaign, IL reached out to me saying that she had a client with a need for a unique coffee table. I arrived with this one, and the client said, "I'll take it," before I even set it down. Once I did set it down, Hazel the pup immediately jumped up and claimed it for her own. Hard to argue with that.